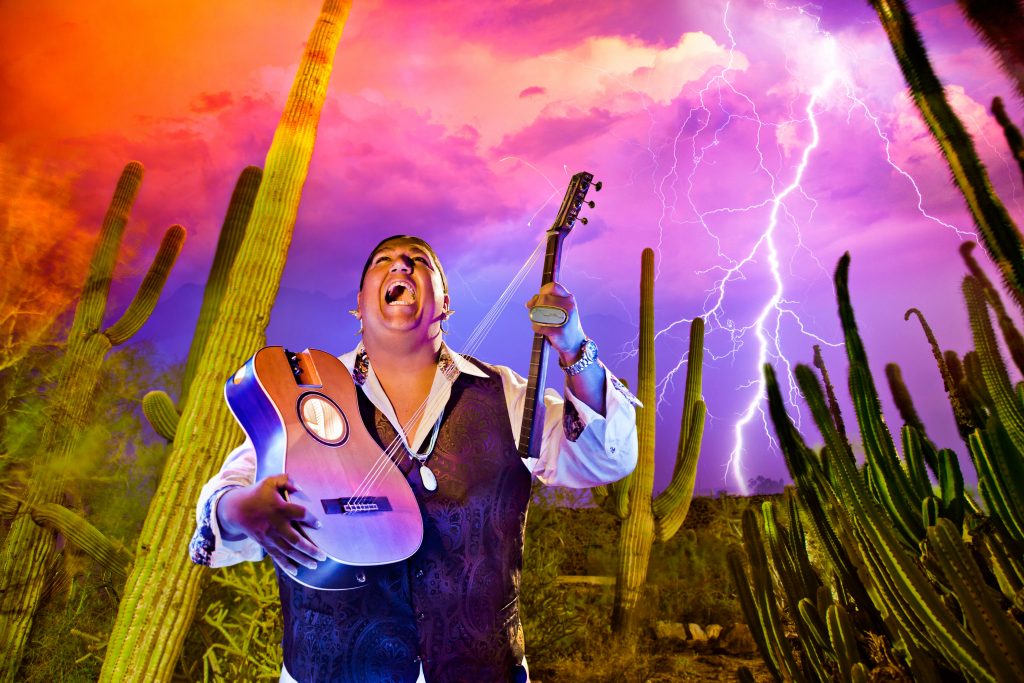 A member of the Yaqui people of Southern Arizona, guitarist Gabriel Ayala is an accomplished classical musician. He is positioned at the forefront of a new generation of Native American musicians, breaking all native and non-native stereotypes with his trailblazing assortment of music genres and accolades.
Gabriel earned a Master's Degree in Music Performance from the University of Arizona in 1997, has taught at all educational levels from elementary through college, and serves as a competition adjudicator. Although he truly enjoys being a teacher, his busy touring schedule allows him to only teach in Master Class settings.
Ayala performs regularly throughout the United States and Internationally. Locally, he has appeared at the John F. Kennedy Center for the Performing Arts, National Museum of the American Indian, Musical Instrument Museum and the Oscar Meyer Theater in Madison, Wisconsin. Recently, he was a featured artist at President Barack Obama's Inaugural Ball. He has been recognized by the former State of Arizona Governor Janet Napolitano, now Director of Homeland Security, for his musical achievements. In addition, he has also been highly honored with the University of Arizona's Tanner Award that recognizes significant professional career success and contributions and leadership benefiting American Indian communities. Not only is Gabriel recognized locally and in the United States but he has also had the opportunity to play for Pope Benedict XVI at the canonization of Saint Kateri Tekakwitha in Rome, Italy. He was also the featured performer at the "Festival Internacional de la Guitarra Academica" in Venezuela with performances in Caracas, Guarenas, Guatire and on National Public Television throughout Venezuela.
Gabriel has been featured in several media publications such as "Native Peoples", "Indian Country Today", "SAY Magazine" (Canadian and United States Editions), "Spirit of the Southwest (German Publication)", "Native America Calling", "Canadian Broadcasting Corporation" and numerous others.
Gabriel has received numerous music awards from national and international awards programs that include Native American Music Awards "Best Instrumental CD", "Best World Music", and "Artist of the Year", the Canadian Aboriginal Music Awards "Best International Album", and Aboriginal Peoples Choice Awards "Best Instrumental".
Gabriel received many accolades in his career among them is the honor of sharing the stage with Motown living legends The Four Tops, The Temptations, Richie Havens, Dr. John, and many others. In 2012, Gabriel started his own record label/recording studio entilted, "DeezMas Records", in hopes to start a Native American Record Label to help promote aspiring Native American Artists. "Shades of Blue" is Ayala's first release through DeezMas Records and it has been met with great success. Upon it's release, "Shades of Blue" was ranked #1 on CDBaby for over four (4) months. Prior to DeezMas Records, Ayala released three self-distributed albums: "Self Titled" in 2003, "I'll Be Home for Christmas" in 2007 and "Tango!" in 2008. Gabriel also has several other releases through his past record label with a total of ten (10) CD's on the market.
Although Gabriel is a classically trained musician, he has ventured out into playing many diverse genres of music which include classical, jazz, flamenco, tango and most recently JazzMenco. JazzMenco is Gabriel's original genre of music which he showcases around the world. The fusion of jazz and traditional flamenco was inspired by his affinity for both of these genres. JazzMenco can be described as the driving rhythmic force of flamenco with the improvisational feel and chord structure of jazz.
As Ayala continues to travel throughout the United States and other countries, he serves as an advocate for education for all youth. He does this through guitar workshops, motivational speaking, presentations in various minority communities. He sets an example for native communities by instilling his values of living a traditional lifestyle while abstaining from Alcohol, Drugs, and Tobacco.
Gabriel believes in leading our children in the right direction through his philosophy, "Love your children, Honor your elders, and Respect your women". Gabriel wants to share the gift of music with as many people as possible. And he serves as an example and delivers a message to children, letting them know that they can become whatever they dream. Gabriel currently resides in Tucson, Arizona.